How We Care For Your Child
Health and Wellbeing
Supporting the social, emotional and mental health needs of the children and adults in the Atkinson Road Primary Academy community is at the forefront of everything we do.
We believe it is important that every child knows we care about every aspect of their lives, and that we are here to care for them and nurture them without passing judgement. We do this in a positive, caring and constructive way.
We are proud to be Thrive School and have been awarded both the SENDIA Inclusion Award and the Wellbeing Award. This means our staff have had a high level of training to support children who may have difficulties forming relationships with other adults or peers. Follow these links for more information on:
The Thrive ApproachSENDIA Inclusion AwardsWellbeing Award
We take the well-being of our children very seriously and understand that if a child is feeling anxious about something in their lives, this may affect their ability to listen and learn. We have staff who are qualified as licensed 'Thrive' Practitioners, to help support children who find it difficult to cope with their anxieties and particular behaviours.
We have two Thrive rooms, one for Key Stage 1 and one for Key Stage 2, where children are supported at break and at lunchtimes as needed. Through play, they learn to deal with their emotions more effectively while being looked after by experienced and qualified staff therapists.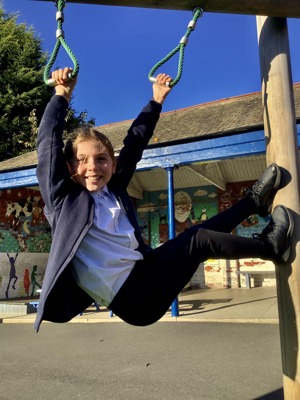 We also sometimes work with external counsellors to support children. This is organised either through our special needs review process or in response to extreme changes in personal circumstances.
---
Medical Care Plan Forms
If your child has medicine stored at school, then you should have received a medical care plan form. Please complete and return this form to the school office as soon as possible.
Download the medical care plan form
---
School Meals and Menus
Our delicious, hot school meals provide nutritious, tasty food to support children's health and well-being. Lunch menus are planned half-termly and are available to download.

All children in Reception, Year 1 and Year 2 receive free school meals. Children in Years 3-6 may be eligible for free school meals. See our Schools Meals page for details.
In order to receive free holiday meal vouchers, you will need to complete an application for all children from Reception to Year 6.
If you have any queries about free school meals, please contact us at arpa.info@atkinsonroadacademy.com or you can contact Newcastle City Council at admissions.information@newcastle.gov.uk.
---
Child Protection & Safeguarding
Atkinson Road Primary Academy is committed to providing an environment where all children are safeguarded and are enabled to say or communicate if they are being harmed in some way.
Section 175 of the Education Act 2002 places a statutory responsibility on the governing body to have policies and procedures in place that safeguard and promote the welfare of children who are pupils of the school. Keeping Children Safe in Education (DFE 2021) and Working Together to Safeguard Children (HMG 2018) provide a framework for enabling the school to fulfil its statutory duties effectively and efficiently in the best interests of children.
All school staff and adults working on site have a statutory responsibility to safeguard and promote the welfare of children and must be aware of and fully conversant with the school's safeguarding policies. All staff receive annual safeguarding training and we have designated members of staff who have received a higher level of child protection training.
Our Headteacher and Deputy Headteacher have also been trained in safer recruitment and follow this training at all times.
It is neither the role nor responsibility of those working with children in the school to assess, diagnose or investigate whether a child is at risk of or suffering harm or abuse. It is the responsibility of all staff to be aware of the need to report any concerns about a child to the Designated Member of Staff as a matter of priority or to one of the Deputy Designated Members of Staff in their absence.
If any member of the school community has a concern about a child's wellbeing, they should speak immediately with a member of the Child Protection team. In the first instance, speak with Mrs Donkin (DSL, Welfare Manager) or Mrs Brown (SENCo).
Child Protection and Safeguarding policies
---
Staying Safe Online
Children at Atkinson Road Primary Academy are taught to stay safe online as part of our Computing and PHSE curriculums. Children have regular e-safety awareness assemblies where they are reminded how to stay safe online.
Click the link for helpful resources for parents and carers
---
If You Have Any Concerns
Please come and talk to us if you have any concerns.
If you have concerns about your child's learning, friendships or issues linked to the school day, please speak to your child's class teacher first. S/he will be able to deal with and resolve most concerns. If it needs to be referred or escalated to someone else, the class teacher will be able to do that.
In the rare event that the class teacher has not been able to resolve any issues or concerns, please contact one of the following members of our Leadership Team:
Mrs Brown (SENCo/ Assistant Headteacher) if your child is in Nursery or Reception
Mrs Donkin (DSL, Welfare Manager) if your child is in Years 1 - 6.
If Mrs Donkin or Mrs Brown are not available, you will be referred to Mrs Macaulay, the Headteacher.
Please call the school office to arrange a suitable time on 0191 273 0452 so we can support you.